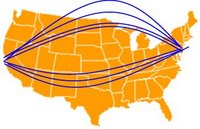 Cruising around this evening catching up on my blog reading i checked in on my fellow Factivate bloggers and i actually chuckled out loud.

In March i posted links to other factiva employee blogs and i am pleased to add two additional ones (there are others that are more personal blogs so i will only post business related ones).

Pat Williams Guerilla HR -- tips and tricks to help manage your staff and your career
Greg Merkle thinking --AVP of Product Design and UX at Factiva- design | analog | digital | guitars | other good stuff
So why did i chuckle on my 'factivite blog tour' this evening? because of the realization that we are all doing the same thing-using e-mail-perhaps because it is easier and personal-but some of us are going the extra mile to share the conversation with folks we might never meet.


Jim Muntone blogged about the 'you got to see this site e-mail' around Web2.0 applications that are filling up our e-mail servers, i know i get them constantly and even admit to sending them as well and obviously things are a buzzing back in Princeton. Looks like Jim is going to help us out by starting the conversations on his blog, good because i haven't been on his e-mail distribution list since i had left for fame and glory on the west coast by the time he joined factiva. Jim is a user experience manager focusing on usability, interaction design and all things user-center so i am looking forward to his reviews (and hopefully meeting him when i head back east this month). Greg is also talking about Social Search services
over on his blog. excellent stuff- keep it coming folks.